Charles Leclerc Biography
Charles Leclerc is a F1 driver currently racing for Ferrari. He was born in Monte Carlo, Monaco on 16/10/1997.
Charles Leclerc has a salary estimated at $24.000.000 and until now he reached 29 podiums and 1056 points in the current World Championship. He has 0 World Championship Titles and a total of 124 Grand Prix Races.
Full Name: Charles Marc Hervé Perceval Leclerc
Racing Achievements:
Charles Leclerc has been a formidable force in the racing world. His journey started with victories in the GP3 Series championship in 2016 and the FIA Formula 2 Championship in 2017.
In 2018, he stepped into Formula One with Sauber, an affiliate of Ferrari, displaying impressive leadership by improving the team's Constructors' Championship rank from last to eighth.
Joining Ferrari in 2019, Charles made records by becoming the second-youngest driver to secure a pole position at the Bahrain Grand Prix and earning his inaugural F1 win in Belgium.
Leclerc's notable statistics as of the 2023 United States Grand Prix include:
5 race wins
21 pole positions
A grand slam at the 2022 Australian Grand Prix
His performance was remarkable in the 2022 World Drivers' Championship, where he finished second to Max Verstappen. He has committed to staying with Ferrari until at least 2024.
Charles Leclerc Personal Life:
Leclerc, born to Hervé and Pascale, is sandwiched between his older brother, Lorenzo, and younger brother, Arthur. Racing seems to be in his blood, with his father having driven in Formula 3 during the '80s and '90s and his younger brother Arthur currently competing in Formula 2. He shared a strong bond with the late racer Jules Bianchi. Tragically, his father passed away just days before Leclerc's significant victory in the 2017 Baku Formula 2 round.
Charles is multilingual, fluent in French, Italian, and English. He's flexible about the pronunciation of his name in English and has a casual religious stance, believing in God but not actively participating in religious rituals.
Driving Style and Reception:
Leclerc is renowned for his knack for qualifying on pole positions. He notably holds the record for the most pole positions without clinching a World Championship title. In 2019, he made history by becoming the youngest recipient of the FIA pole position trophy.
Awards and Honours:
Autosport Awards Rookie of the Year: 2017 & 2018
FIA Rookie of the Year: 2017 & 2018
Confartigianato Motori Best Young Driver: 2018
Pirelli Pole Position Trophy: 2019
Confartigianato Motori Driver of the Year: 2020
Monaco Medal of Honour: 2020
Other Ventures and Philanthropy:
Leclerc's talents aren't confined to the racetrack. He featured in "Le Grand Rendez-vous," a film recreation of the 1976 French movie "C'était un rendez-vous," and lent his voice to the Italian-dubbed version of Pixar's "Lightyear."
A partnership with Giorgio Armani in 2020 saw him as an endorsement model. His philanthropic efforts shine through his ambassadorship for the Princess Charlene of Monaco Foundation, advocating for the importance of swimming.
During the COVID-19 pandemic, he assisted the Monaco Red Cross, supporting meal deliveries and hospital equipment transportation. He also backed the Italian Red Cross in their relief initiatives. In a surprise move, April 2023 witnessed Leclerc releasing a piano-composed single titled "AUS23 (1:1)," a nod to the 2023 Australian Grand Prix. His music pursuits are overseen by Verdigris Management.
Videos with Charles Leclerc
Charles Leclerc Photo Gallery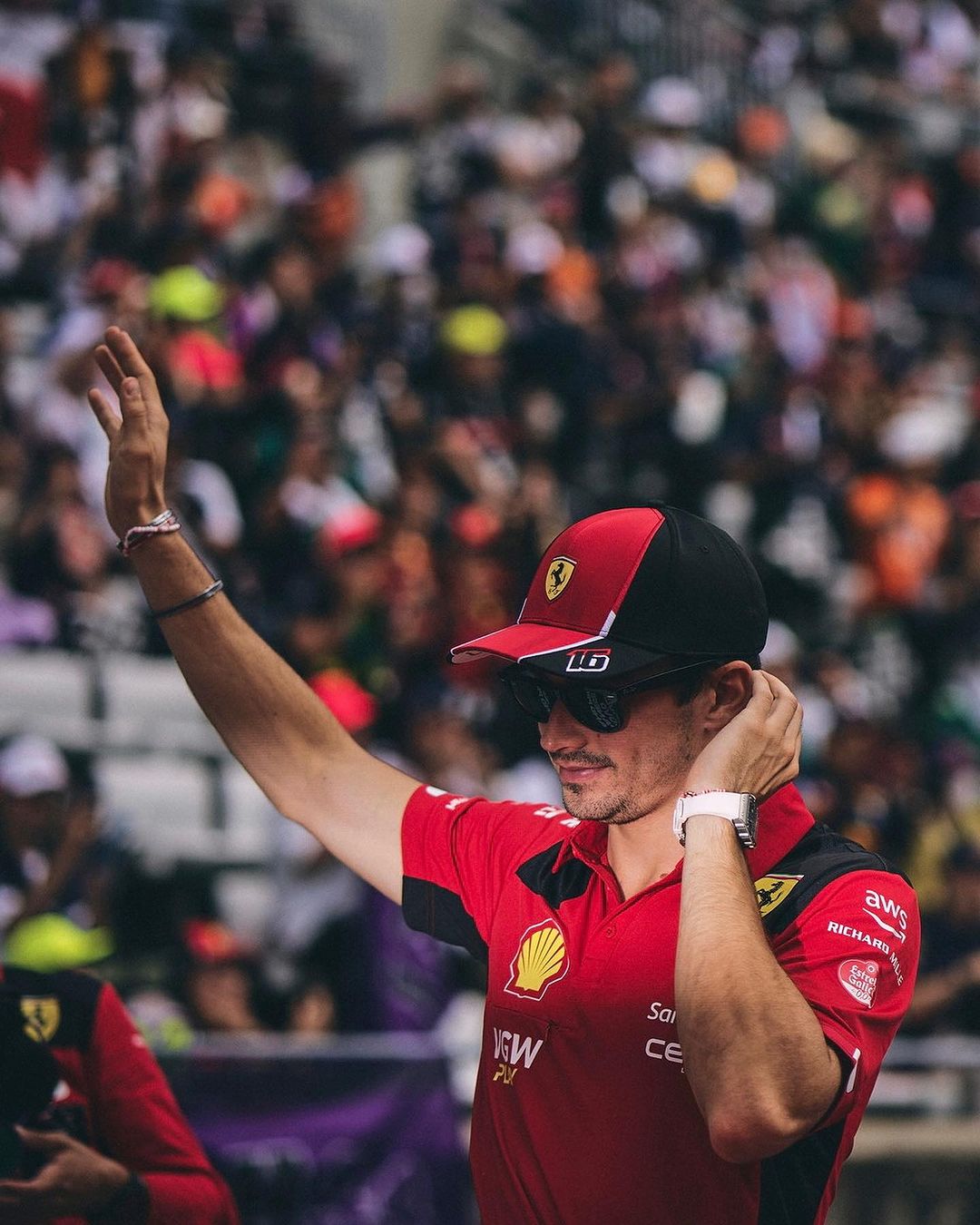 Latest F1 Newsletter Bites
Get smarter on
Formula 1
Bi-weekly newsletter to help you learn the sport and stay updated with the latest F1 news & insights.